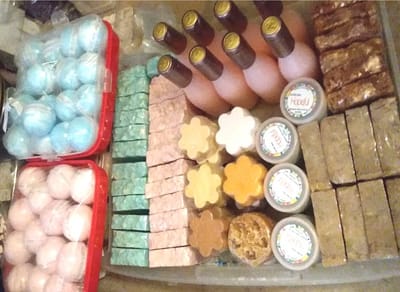 When the two little girls in our family were 2 and 4, I made little bath bombs for them - that was my first hand made skin care product. Then family and friends asked for lotions, body butters, bath salts and eventually soap! Were they kidding? I didn't want to make soap, it was too difficult and too expensive.
Later I softened; I would to try to make soap. Each month for a year, I spent $100.00 for supplies, and I watched soap videos and read soap books. Then, when I made my first batch of crock pot soap, it was perfect, and I was hooked. Now the little girls are 7 and 9, and over 300 people have used our Harper's Farm Soaps. Isn't that amazing?
Our mission is to make really good, affordable skin care items in traditional bars & balls of soap and novelty sweet treat formats. We want the average working person to benefit from the restorative and nourishing properties in our customized, all natural, hand made soaps & body products.